Volunteers are the heart of Garrett County Habitat for Humanity. Volunteers are our gifts and provide priceless hours of service working on the construction of houses, at the Habitat Home Store and in helping with donations collections.
Whether looking to volunteer as an individual, group or business, there are many opportunities to get involved.
Construction
Whether you are an expert or novice, volunteering on a construction crew is a great place to begin learning the Habitat construction process and developing specialized skills. Tasks range from flooring, carpentry, concrete work, siding, landscaping and more.
Due to weather in our mountainous region, Garrett County Habitat only builds from late spring to early fall. Where we are in the build process and demand for volunteers will determine how quickly we can get volunteers on a construction site. On-site construction volunteers must be at least 16 years old. 14 & 15 year olds may volunteer special activities. Volunteers 17 years old and younger must be accompanied by an active participating adult.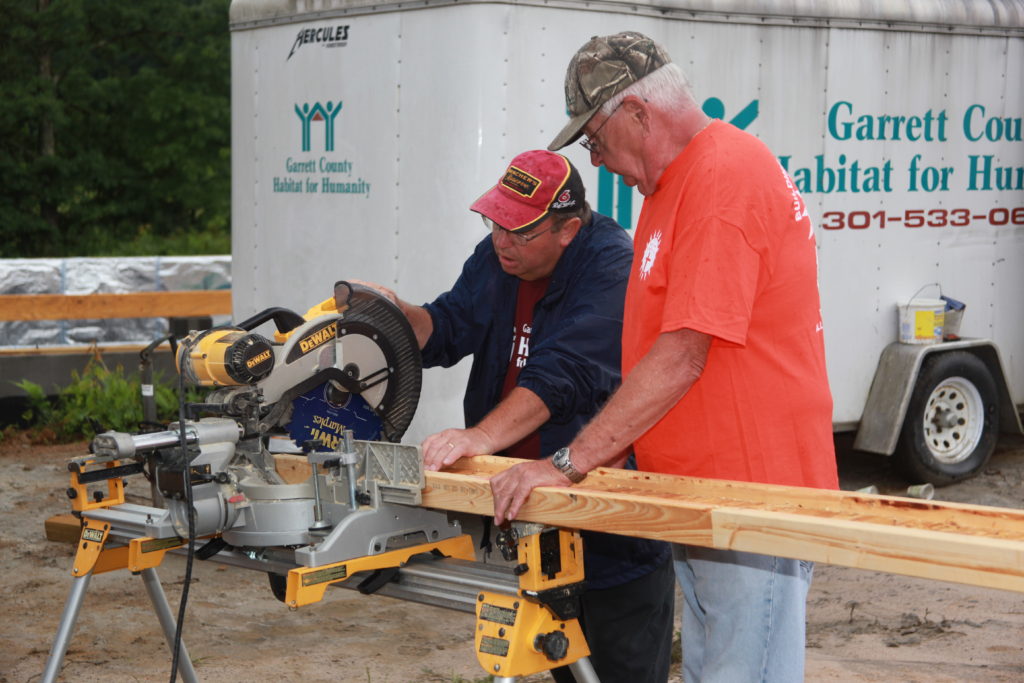 Habitat Home Store
The Garrett Habitat Home Store is a retail store that accepts donated furniture and building products (e.g. windows, doors, appliances, sinks, unopened gallons of paint, etc.). These items are then resold to the general public to help support GCHFH in its efforts to help build decent and affordable housing for low-middle income families. The Habitat Home Store is open Tuesday - Saturday, 10 AM - 2 PM. You may contact the Home Store at 301.533.2180 to sign up as volunteer with pricing, inventory control, sales and donation pick-ups. Our greatest need for volunteers at this time is for people to help with donations collection/pick-ups throughout the county. Hours for pick-ups are flexible.
Special Talents
Have a special skill or talent you'd like to volunteer or donate, please call us to discuss further. 301.533.0600 or send us a note at [email protected] .
Tool Drive
A Habitat for Humanity Tool Drive is an easy and rewarding project for your church, school or office. Collect and donate tools needed to help us to build homes, communities and hope. Give us a call at 301.533.0600 to see what items we have on our "construction wish list".
Interested in Volunteering, complete this form and we will contact you.