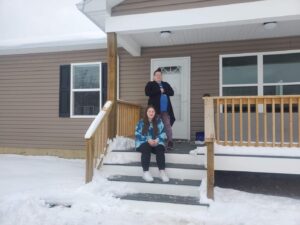 GRANTSVILLE, Md. — After a 10-year gap in building within Grantsville town limits, Garrett County Habitat for Humanity announced the completion and occupancy of a Grantsville home.
The home is the 82nd built in Garrett County since the organization's inception in 1983.
Executive Director Steve Bortz noted that Habitat builds where its new home partners currently work or live, and for some time that focus has been in the Oakland/Deer Park area.
"After our prospective buyer finished her service hours, the committee vowed to get this house built this calendar year," Bortz said, referring to 2020. "That was before we even knew what COVID-19 was or realized how it was going to impact all of us. We put this plan together in a hurry and completed this entire build from foundation to finishing touches in less than nine months."
This was also done in a year when only one out-of-town group was able to assist with the build, instead of the usual five. Bortz noted that 75% of all the work was done by dedicated Habitat Construction Committee members who took up the challenge to make it happen.
"There were a lot of folks who adopted this property — from volunteers to skilled professional labor who donated much of their own personal time on this project," said construction committee members Jerry Lynch and Ron Tressler. "We all vowed to get this completed and delivered before Christmas to our anxious new owner."
DiAnna Durst and her daughter, Jalyssa Durst, were able to move in the week before Christmas.
"We are extremely excited to start a whole new chapter of our lives," Durst said. "We are very thankful to Garrett County Habitat for giving us a chance to make a house a home for me and my daughter."
Besides Lynch and Tressler, other construction committee members are Fred Eggleston, Bill Rock, Ken Fisher, Bob and Stephanie Gray and Charlie Nace. A crew from St. Michael's Catholic Church also contributed.
Habitat home partners must meet needs based on personal finances, job history, credit history and the commitment to work 250 volunteer hours of "sweat equity" for Garrett County Habitat in the form of home builds, landscaping and maintenance, work in the retail store and office work.
Qualifying home partners receive a 30-year fixed mortgage at 0% interest.
For more information, call the Habitat office at 301-533-0600.
Staff writer Brenda Ruggiero can be reached at 301-501-8393 or by email at [email protected].