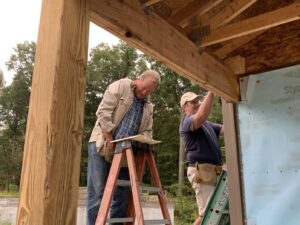 OAKLAND — The Oakland-Mountain Lake Park Lions Club has "adopted" a house to work on for Garrett County Habitat for Humanity.
The project involves the exterior of House 20, or 175 Frank Custer Drive in Hopeland Village, according to Steve Bortz, Habitat's executive director.
Club members have pledged three or four Saturdays this fall to install the soffit, fascia and siding to make sure the house, which will be completed next spring, is protected through the winter months.
Bortz noted that Lions Club members even brought out their own equipment, including a lift, to make the work easier.
"We are extremely grateful to the Lions Club to lend their time, talents and even equipment to Habitat," he said.
The collaboration came about when Bortz and Fred Eggleston, board president, met with Frank Lewis, past Lions Club president.
"When we explained our situation this year with our out-of-town groups not being able to help because of the virus, Frank got the club to pitch right in and help," Bortz said. "And when the Lions membership discovered we already had a couple waiting for this house, it further cemented their decision that this was a cause they had to undertake."
In the Hopeland Village development, Bortz reported that Habitat will complete House 19 and repurpose House 16 and House 20. The homes that are incomplete will be protected for the winter and will be finished in the spring.
This will mean that two new families will be in their homes in 2020 and at least one more in 2021. Bortz noted that only one lot remains until the property is fulfilled.
He said Habitat continues to look for local civic groups, clubs and churches to come and lend a hand.
"We don't know what the future will bring next year, or into the future, concerning out-of-town churches coming to serve us as their mission trip," he said. "We promise to train you, keep you safe, and most importantly feed you if your group can come out and give back to Garrett County."
For information on how to join in and help Habitat, email [email protected].
For information on how to join the Oakland Mountain Lake Park Lions Club, visit the Facebook page under Oakland-Mt. Lake Park Lions Club.
Staff writer Brenda Ruggiero can be reached at 301-501-8393 or by email at [email protected].