Deer Park, MD (May 12, 2018) Garrett County Habitat for Humanity held its annual Women Build work day on May 12th, and over 20 volunteers joined together to help build affordable housing for Garrett County families in need as part Habitat for Humanity's National Women Build Week event.
The volunteers installed subflooring and built wall components on one of the homes currently under construction. Volunteers from the GCHFH Hospitality Committee supplied a sit down lunch for the Women Build volunteers.
"We had a great group of volunteers out to help with Women Build, and we had beautiful weather for this year's event. The volunteers accomplished a lot here today and helped start a home for a Garrett County family in need." Said Brent Stone, GCHFH Executive Director.
Lowe's is a National co-sponsor of National Women Build Week, and it is one of the major initiatives supported by Lowe's through their national partnership with Habitat for Humanity. Since 2003 Lowe's has provided millions of dollars and helped thousands of families improve their living conditions.
Habitat's Women Build program recruits, educates and inspires women to build and advocate for simple, decent, affordable housing in their communities. Since the program was created in 1998, more than 2300 homes have been built in partnership with low-income families using Women Build crews nationwide.
The Board of Directors, volunteers and staff of Garrett County Habitat for Humanity would like to thank everyone who came out to volunteer for Women Build 2018, and made the event such as success.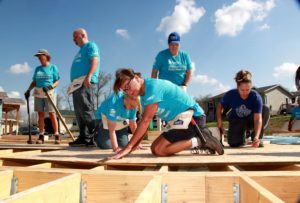 Pictured:
Left to Right: Stephanie Gray, Ryan Miller, Linda Booth, Linda Burdock, Michele Cosner, and Jessica Wilson.